"We Three Gentlemen" is a medley song composed from parts of "We Three Kings", "God Rest Ye Merry, Gentlemen", and "Carol of the Bells".
This song is from Lindsey Stirling's fourth studio album, Warmer in the Winter, and it serves as the fourteenth track on the 2017 release, only found in the Target edition; it became the fifteenth track on the 2018 re-release, becoming a part of the standard deluxe tracklist.
Live performances
Stirling performed We Three Gentlemen for the first time on November 23, 2018 at the Silver Legacy Casino - Reno Ballroom in Reno, Nevada.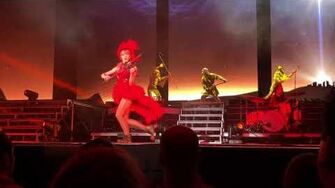 .
.
.
.
.
.
.
.
.
.
.
We Three Gentlemen was part of the setlist of the Wanderland Tour during 2018 and the Warmer In The Winter Christmas Tour during 2019.
Trivia
This cover of the song is instrumental, meaning it has no lyrics.
Music video
The official YouTube video was released on December 4, 2019.
Music video
Information

Lindsey Stirling - We Three Gentlemen (Medley)

Released
December 4, 2019
Length
3:01
Director
Graham Fielder
Lindsey Stirling
Producer
Graham Fielder
Lindsey Stirling
Choreographer
Filmed
November, 2019
Location
Alabama Hills, California
YouTube views
3+ Million views
Behind the scenes
Community content is available under
CC-BY-SA
unless otherwise noted.