Lindsey Stirling
Writer(s)
Lindsey Stirling


SILAS

Producer(s)
SILAS (album version)


Stephen Anderson

(orchestral version)
Length
4:24 (album version)
4:24 (orchestral version)
From
Shatter Me track listing
"Ascendance"
"Take Flight" is the eighth track from Lindsey Stirling's second studio album, Shatter Me. The orchestral version of Take Flight is a bonus track only available on the Target and iTunes deluxe edition.
Live performances
Stirling performed Take Flight for the first time on April 29, 2014, at Barnes & Noble in Los Angeles.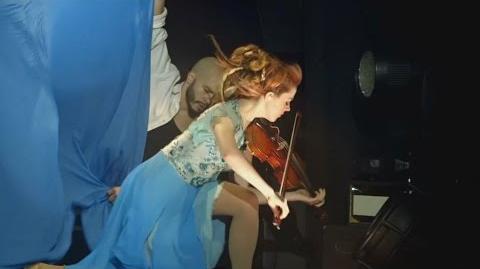 .
.
.
.
.
.
.
.
.
.
Take Flight was part of the setlist of the Shatter Me Tour on 2014, and continued to be part of the setlist of The Music Box Tour and the Brave Enough Tour on select dates only, from 2015 to 2016.
On the Brave Enough Tour and the Warmer in the Winter Christmas Tour the song was occasionally performed during the VIP soundcheck.
Trivia
The song is instrumental, meaning it has no lyrics.
Music video
The official YouTube video was released on March 23, 2015. The music video was produced for the YouTube Music Award's 2015, and was Stirling's first video not to feature a violin onscreen.
Music video
Information
Released
March 23, 2015
Length
5:09
Director

Joe Sill

Producer

Nick Erickson

Choreographer
Filmed
Location
YouTube views
22+ Million views
Behind the scenes
The behind-the-scenes video was released on March 29, where Stirling explained the meaning of the song.