Alexander Jean

Writer(s)

Mark Ballas




BC Jean


Lindsey Stirling
Producer(s)
Mark Ballas
Released
June 8, 2018
Length
3:25
"Stampede" is the first single from Alexander Jean's third EP featuring Lindsey Stirling.
Composition
According to Alexander Jean, Stampede had existed for a long time before they met Stirling, BC Jean stated:
My husband [Mark Ballas] continuously played this on his guitar around the house and back stage of our shows, really hoping we would write something powerful to it. [...] I said from the beginning that this music was something special that should stand on its own. And that's coming from someone who loves words, lyrics, and storytelling!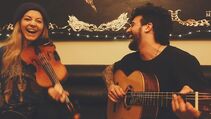 On February 15, 2018, Instagram stories of the three of them were posted, hinting at a possible collaboration. Stirling and Ballas were shown playing the violin and guitar, in what seemed a studio.
Trivia
The song is instrumental, meaning it has no lyrics.
Music video
The official YouTube video was released on June 13, 2018.
Music video
Information
Released
June 13, 2018
Length
3:30
Director
Joshua Shultz
Producer
Joshua Shultz


Krizia Vega


Mark Ballas
BC Jean
Lindsey Stirling
Choreographer
Mark Ballas


Shirley Ballas

Filmed
May 12, 2018
Location
Studios 60
YouTube views
0,6+ Million views
Hair:

J Zilken

Make up:

Angela Moos

Styling: BC Jean
Behind the scenes
The behind-the-scenes video was released on May 12, 2017.